"We have to test a roof box on the Porsche!"
Our thought: What works well on a Porsche is also excellent for other model variants, such as SUVs or higher powered station wagons and sedans!
So the search for a suitable roof box started. Of course you meet the usual suspects like Thule, Hapro, Kamei and Jetbag. But all of them did not meet our needs: aerodynamic design, approval for higher speeds and beautiful appearance. Just a little eye-catcher she should be.
By chance we came across ALUMINED. A Slovakian manufacturer of roof boxes for the premium segment, which is focused on the German-speaking area.
After a short Mail-Ping-Pong with the manufacturer, we could pick up the box after a few days in the beautiful Erkelenz at Ring Police.

Assembling the box: it is a cinch
The assembly itself was really simple. The Alumined-Box is attached to the roof rack with 4 T-screws. To do this, slide the bolts into the T-slot of the roof rack and align them approximately at the distance of the holes in the box. With a little sense of proportion and final alignment when the box is in place, no problem.
When all four screws have been placed in the pre-drilled holes of the box, the box is fixed from the inside with nuts, which support the tightening with recessed grips. That was it. But you have to keep in mind: The roof box is big, just like Thule's competitors and has a certain own weight (24kg). Therefore it is recommended in any case to bring a second person to the side for assembly. The same applies to disassembly. Alone it would probably only work with a roof box lift or a large portion of spinach.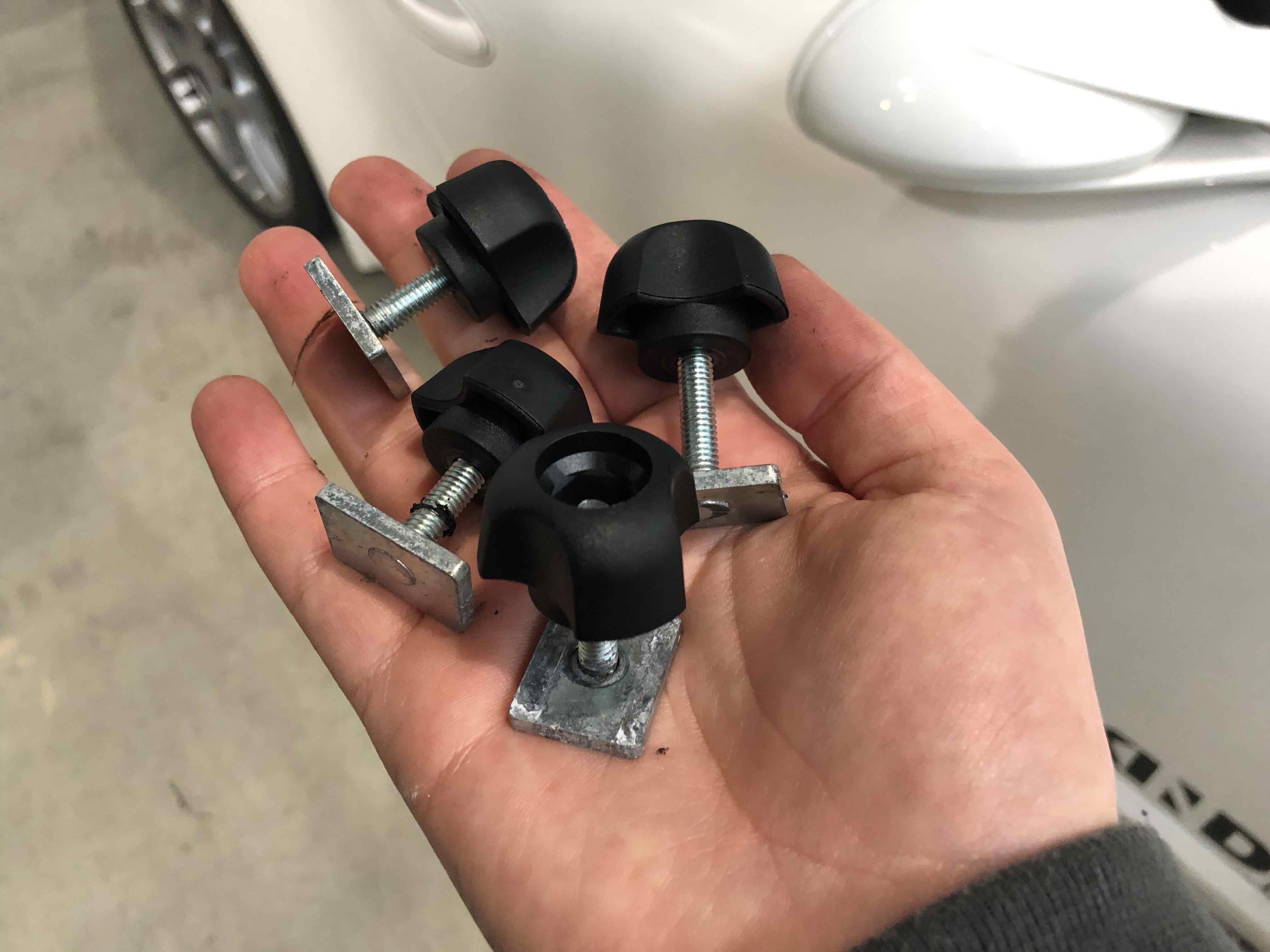 Screws for the T-slot of the roof rack
Finally, the roof box is again aligned with a folding rule exactly in the middle of the vehicle and the screws tightened. It should be emphasized that you do not need any tools, except a measuring tape or a folding rule. Whereby one could go also here after sense of proportion. But we want to have it perfect!
The first ride: Box not perceivable
Now it could have gone directly to loading. But we had nothing but a jacket and a backpack. But not bad, because we were able to check out the biggest problem of other boxes on the first ride: Empty rides.
The Alumined-Box is made of aluminium. You can actually hear that with very coarse potholes. Then you can hear a very light rattling. Anticipated: Only with the empty box. Something filled it is really not noticeable at all in this respect.
But here is a list of our acoustic perception:
In normal road use e.g. in the city or on country roads:
Super quiet and you forget the box very quickly, because it is simply not perceivable
On the motorway up to 120km/h:
On the motorway from 120km/h:
The wind noise becomes stronger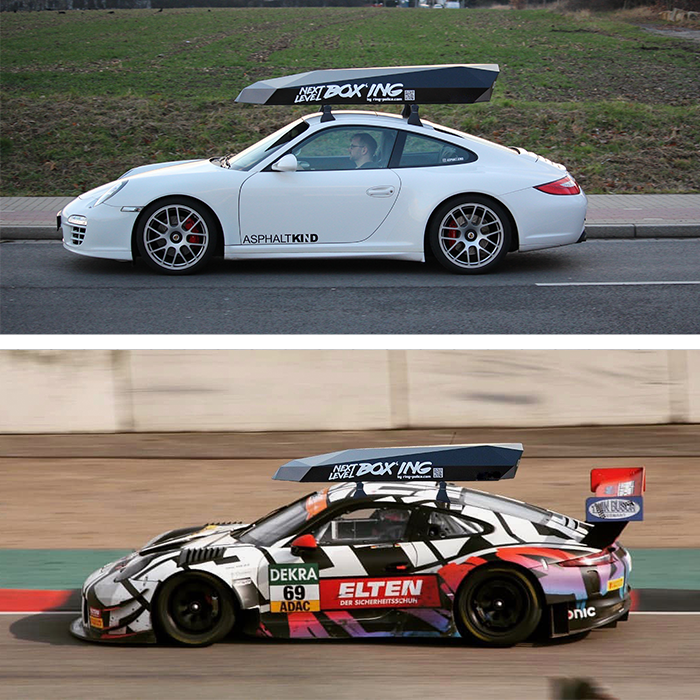 Is the ALUMINED roof box also suitable for the race track? It looks good in any case!
Important to note here: The 911 is generally not perfectly acutely insulated. One also likes the engine sound. Therefore we would estimate that the box is on a usual SUV, estate car or limousine with better sound insulation due to the construction, not at all perceptible.
Come to dynamics:
Porsche tends to build its vehicles in such a way that you can take them around bends easily. The suspension tuning in interaction with the tyres and the low centre of gravity: A poem!  But only without roof box? No, also with! We really didn't spare the pit and drove through the one or other bend in the loaded condition with very great lateral dynamics. No problems, noises or fatigue symptoms of the roof pit perceptible. Here is a video, one of the slower cornering and acceleration drives, because we always stick to the laws (enjoy the sound! ❤️) 
Acoustics, aerodynamics, lateral dynamics checked. But what about stability?
Guys, it's aluminum. There are car manufacturers who make whole cars out of this material. The box is really very stable. No wobbling when opening, no flutter at high speeds when empty and theft-proof, like a small safe. This is really a big advantage compared to other boxes. Because these points cannot be achieved with the usual materials.
In addition, there is a very high-quality lift system and a locking system that activates three locks on the box. Between you and me: We often stored our backpacks and bags with MacBooks and camera equipment in the box. We didn't have any worries about departure.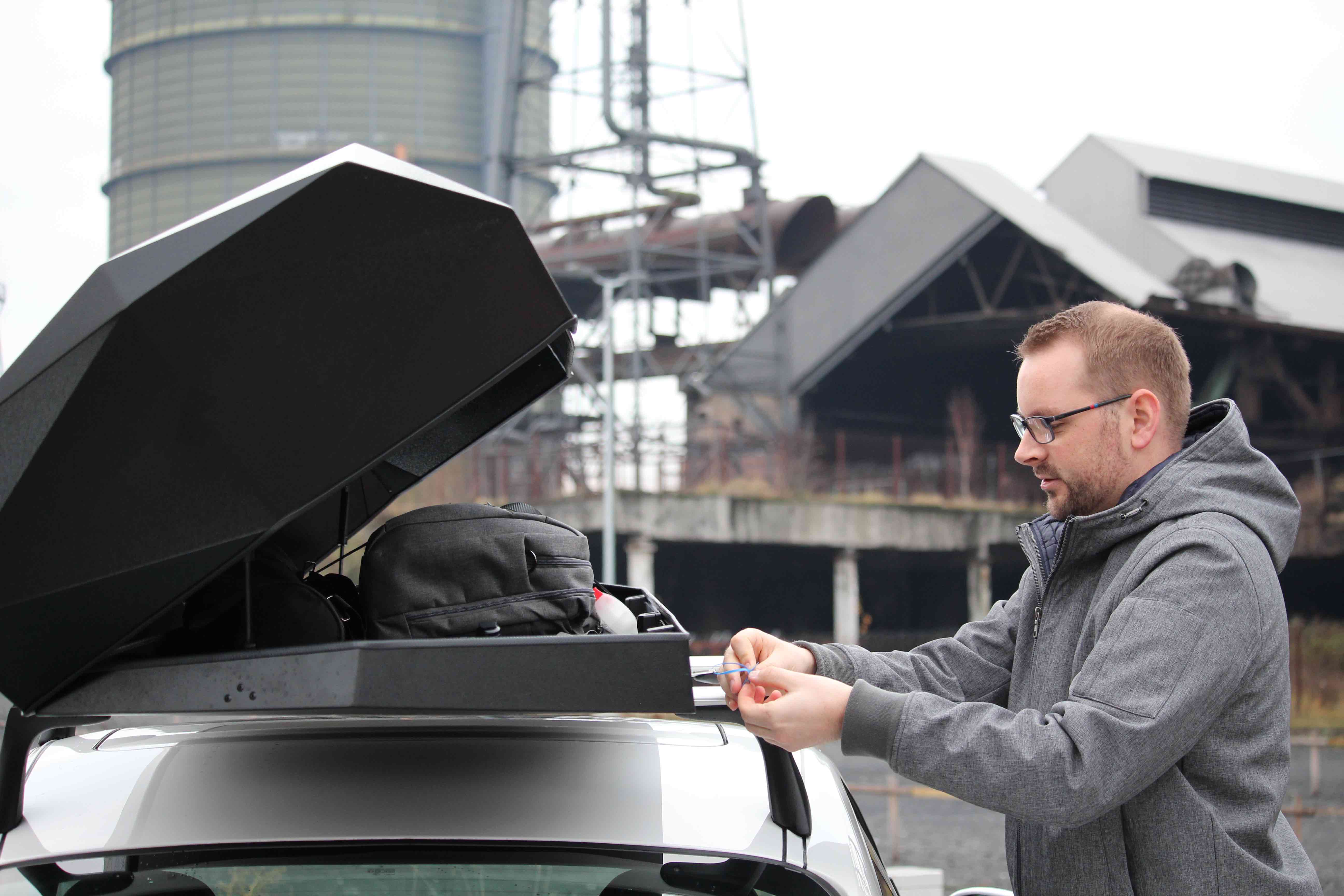 Result:
We had the pits exactly 2,401 kilometers on the Porsche. There was a longer road trip with different city destinations and the destination Rügen (blog will follow), but also quite normal everyday trips, where the box was used as second trunk daily. We were really satisfied and would recommend the box! Unfortunately, the topic design is a question of taste and whether the design fits to a Porsche is left to everyone. But we were often photographed and asked what kind of jewel it is.
We definitely give the box our recently introduced test certificate PORSCHE TESTED and therefore also definitively recommendable for other premium vehicles.
To sum up once:
Positive:
Very stable

Thereby suitable for higher speeds, where other boxes are in a state of collapse
Not much noise due to rattling

Aerodynamic (low wind noise)
Break-proof
Very chic design
No end of the world, but we didn't like it that much:
Minimal rattling with empty box, which is barely audible and only occurs with coarse potholes
Assembly and disassembly only with two persons or roof box lift possible
Weight
 EDIT November 2019:
We have tested various roof boxes for over a year. But our requirements were never completely fulfilled, as you can read in the test reports. Accordingly, we set off in mid-2019 to develop our own roof box.
We combine the perfect design, an aerodynamic shape, high stability and low weight. 
The special: We limit the car models on which we recommend the box. An exact list will be available shortly. But first of all, we plan to cover the majority of BMW, Mercedes, Porsche, Audi and Tesla models. Even if the blog is a bit Porsche- and 911-heavy at the moment, this is due to the fact that this is our own car, which basically sets the bar very high, so that you don't have to make any compromises with your model anymore.
Stay up to date and be the first to know when there are first pictures of the box!