Roof box design is one thing in itself
What makes a roof box design?
If you look at current models, they are very interchangeable in design. If they stand out, it's because of exaggerated lines that don't match the modern design language of the automotive industry.
The basic form:
For a long time we asked ourselves the following question: Is a banana-like shape, which pulls the box down towards the front, optimal in terms of design and aerodynamics?
Basically it is. However, every car and especially every base carrier is different. So a box, photographed from the right angle, can look good on a car (provided the base carrier is "lowered"). But seen from a different angle or with an OEM base carrier it can look different again. In addition, if the roof box is too low, the aerodynamics of the car are impaired. That means, if the box sits too low, no aerodynamic flow reaches the rear of the car, where often a spoiler wants to do its job.

We were not satisfied with these compromises. So we started looking for a specialist for car design.
Our criteria: We want to look perfect on any car that has a (slightly) sloping rear end. Because we have established: The straight roof lines from 1990 – 2010 no longer exist.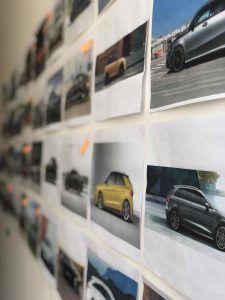 Hello Shooting-Brake, hello SUV-Coupés and hello station wagons with sloping rear! Hello also dear electric cars and sports cars, whose aerodynamics and design we consider untouchable!
Not easy. But feasible!
Together with various designers we set to work. The process really turned out to be very tough. Some people lacked the feeling for the perfect proportions and the car design itself. Countless correction loops had to be made and countless ideas were discarded. Only one designer finally managed to convince us.
So we set to work with an experienced car designer whose designs are known to anyone who has ever held a car magazine in their hands.
Our basic shape: a drop of water. The most aerodynamic shape there is.
Our line management: Adapted to the modern and above all future design language of our cars. Without beading, edges or tunnels, but with a sophisticated design that uses light and shadow.
It took umpteen design drafts. A complete wall was placarded with side shots of the current and future model range of the leading car manufacturers. Two (automotive) designers have failed.
But in the end we did it.
Here the first sketch:

Funfact at this point: Our internal claim for the design was that the roof box is so beautiful that we would place it in the living room. We have managed that!
Soon the first realistic drawings will follow!